Kheer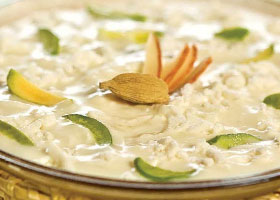 Kheer is a creamy rice pudding flavored with cardamom and saffron.
Ingredients
Milk - 1 litre

Sugar - 200 grams
Rice ada - 2 handful
Saffron
Pistachio
Raisin
Preparation

Boil the milk till it becomes 600 grm.
Wash the riceada and make grind it to make powder.
Mix rice powder with 50 ml cold water in a bowl.
Mix it with milk and stir it till it becomes a thick paste.
Now put it into a serving dish and garnish with saffron/pistachio and raisin.